News
TESSA & SCOTT INVESTED AS MEMBERS OF THE ORDER OF CANADA ON DEC.14TH, 2022
posted Dec 31, 2022, 12:09 PM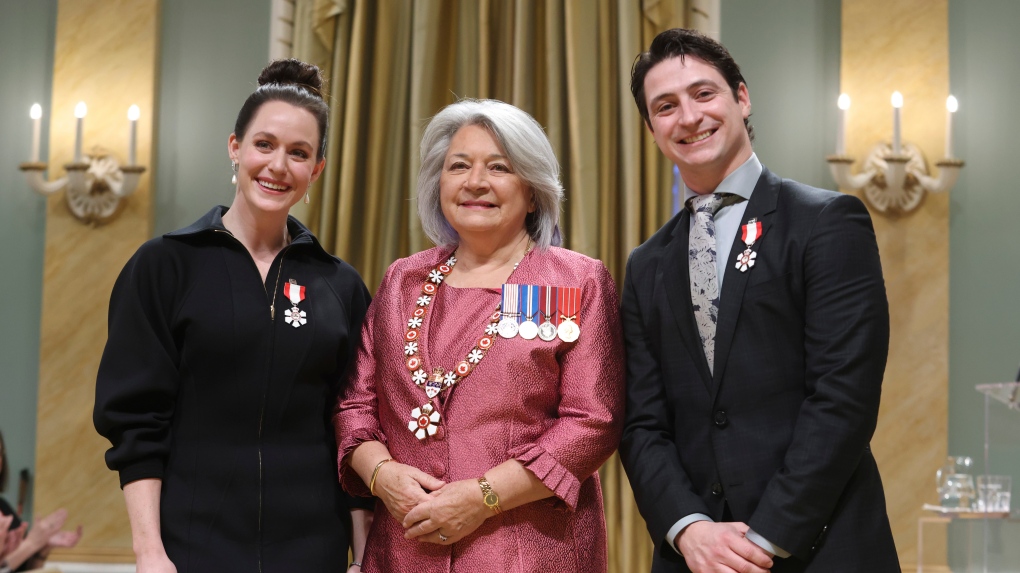 Governor General Mary Simon invests Scott Moir and Tessa Virtue as a members of the Order of Canada during a ceremony at Rideau Hall in Ottawa on Wednesday, December 14, 2022. THE CANADIAN PRESS/ Patrick Doyle
WINTER SKATING SCHEDULE RESUMES MONDAY JAN. 2ND!
posted Dec 31, 2022, 10:43 AM
We are back on schedule Monday January 2nd, 2023 as our WINTER session will resume! All STARSkate, CompSkate, Synchro practices will be back to their regular schedules.
First Day of Skating for Winter CanSKATE:
Medway Arena - Tuesday Jan. 3, 2023
Ilderton Arena - Saturday Jan.7, 2023
Komoka Arena - Sunday Jan. 8, 2023
For more information, contact the office at ildertonskate@execulink.com.
Looking forward to another great year in 2023!!
HOLIDAY GALA DECEMBER 22ND
posted Dec 19, 2022, 12:05 PM

Holiday Skating Gala on Dec. 22nd
WHAT A NIGHT!! Thank you to all who made this evening an event to remember:
Thank you to all our ICE Ignite teams who performed.........some for the first time ever.
Thank you to Jordyn & Noah, Lily & Nathan, Haley & Nik, our IAM Ontario skaters, who showed us why they have been so successful this year. Good luck at the Canadian Championships next week in Oshawa.
Thank you to Hannah (one of our great coaches!) and Eileen & Isabella for demonstrating their free skate skills.
Thank you to our fearless leader, Mr. President Jay, for letting us put him to work as the announcer.
Thank you to our 50th Anniversary committee for putting on the Wine & Cheese event for former Presidents and Board members. So fun to see everyone again.
Thank you to all of our Professional Coaches who continue to develop our skaters to be the best that they can be.
and of course THANK YOU to all our families for their continued support.
Looking forward to an amazing 2023 year!
WORLD ICE SKATING DAY DECEMBER 4TH, 2022 – WHAT A DAY!!
posted Dec 1, 2022, 10:20 AM
We were thrilled to collaborate with our friends at Ice Academy of Montreal -Ontario campus and ICE ignite Synchronized skating teams to celebrate the first ever WORLD ICE SKATING DAY presented by ISU figure skating.
What an amazing day celebrating the sport we love so much alongside some past & future Olympians (how lucky we are!) The skaters got to work with Olympians Canadian Scott Moir, American Madison Hubbell, Spain's Adrian Diaz both on and off the ice. They were treated to an exhibition by IAM skaters and Ilderton grown Layla Veillon & Alex Brandys -Canadian Challenge Junior Ice Dance Bronze medalists, Jordyn Lewis & Noah McMillan- Junior Ice Dance Grand Prix Bronze medalists, IAM dancer Layla Karnes ,as well as our own fabulous ICE IGNITE Novice and Junior Synchro teams.
Thanks to everyone who made it possible!