Synchronized skating
Synchronized skating is a specialized branch of skating distinct from the other figure skating disciplines. It generally involves a group of 8 or more skaters performing various group formations and maneuvers. 'Synchronized' refers to the importance of unison, the accuracy of the formations and the synchronization of the team. A well balanced synchronized skating program contains maneuvers such as circles, lines, blocks, wheels and intersections. The difficulty level of these maneuvers is enhanced by step sequences, free skating moves, holds and transitions incorporated into or between each of these maneuvers during the program.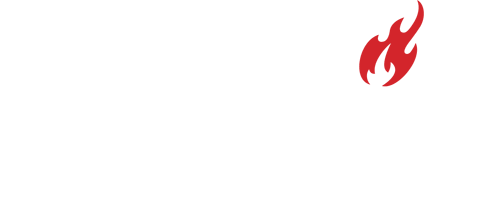 2023- 2024 ICE Ignite SYNCHRO COMMITTEE
DIRECTOR - Carol Moir

iceignitesynchro@gmail.com
COORDINATOR - Tammy Bycraft
FUNDRAISING COORDINATORS - Carrie Passi / Nicole Jermyn

iceignitefundraising@gmail.com
COACHES REP - Cara Moir / Sheri Moir Desantis
MARKETING OFFICER -Lisa Veillon
PROGRAM ADMINISTRATOR - Alma Moir

ildertonskate@execulink.com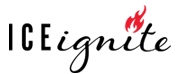 ICE Ignite skaters, family & friends!!
Our ICE Ignite Pop-Up store is now open and will ONLY be open until Oct. 28th.
New items include black leggings & a tote along with all our awesome clothing!
LINK for store: https://titaninkapparel.com/ice_ignite/shop/home
Don't miss out!
************************************
2022-23 ICE IgnitE

PROGRAM Sponsors
A

HUGE

THANK YOU TO THE FOLLOWING BUSINESSES and/or ORGANIZATIONS FOR ALL THE SUPPORT TO OUR SYNCHRO PROGRAm AND SKATERS.
DONATIONS MAKE IT POSSIBLE FOR US TO KEEP SYNCHRO AFFORDABLE TO OUR SKATERS.
THANK YOU FOR BEING INVOLVED AND SUPPORTING OUR ICE IGNITE SYNCHRO PROGRAM!
DIAMOND+ SPONSORS
COTRAC FORD LINCOLN SALES INC.
Jim Corneil
www.cotracford.com
K-R COMMUNICATIONS LTD.
Tim Ward
www.krcommunications.ca
MOIR'S SKATE SHOP
Paul Moir / Scott Moir
www.moirs.ca
DORINDA LEWIS
(Grandma Dee)
GOLD SPONSORS
Aria Dental Centre
Dr.Hassan Mostafa
Service Ontario
(Strathroy Service Ontario)
www.ontario.ca/locations/serviceontario/metcalfe-and-zimmerman-strathroy
Edgewater Estates
www.edgewaterestates.com
South Winds Development Company
Stacey Graham
SILVER SPONSORS

BRONZE SPONSORS

BMW MINI London www.bmwlondon.ca

Bill Duffield

Burloak Travel

Carolyn Lass -Travel Specialists

Carriff Canada

Tom Roake

InstaCare Pharmacy & Clinic

www.instacarepharmacy.ca Rashmin Patel

Pioneer Pools

Land & Cattle

Jason & Charity Hodgins

Optimist Club of Oakridge

www.oakridgeoptimists.ca

Bylea Farms Ltd.

Paul & Gayle Bycraft

Elaine Winder

Einstein's Optical

Tariq Elgwaily

Kobayashi4 Industries

Anderson Webb Ltd.
OTHER(Grants and/or IN KIND Donations):
Skate Canada -

2022 Synchronized Skating Grant
Skate Ontario -

Government of Ontario Quest for Gold Sport Funding
Ontario Sport Network – Community Sport and Recreation Grant
Ilderton Skating Club
Moir's Skate Shop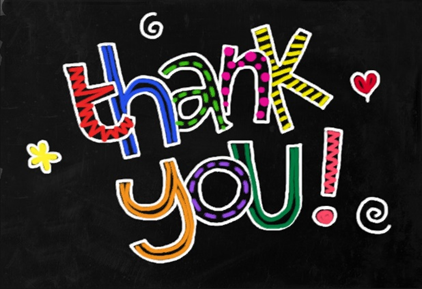 2023-24 synchro teams
For the upcoming season, we are excited to have 7 teams

DEVELOPMENT Tier
STAR 3 (Beginner)
STAR 4 (Elementary)
COMPETITIVE Tier
STAR 4 (Pre-Juvenile)
STAR 6 (Juvenile) – Provincial level
NOVICE – Canadian level
JUNIOR – Canadian level
ADULT
Adult 2 – Nationals/Provincial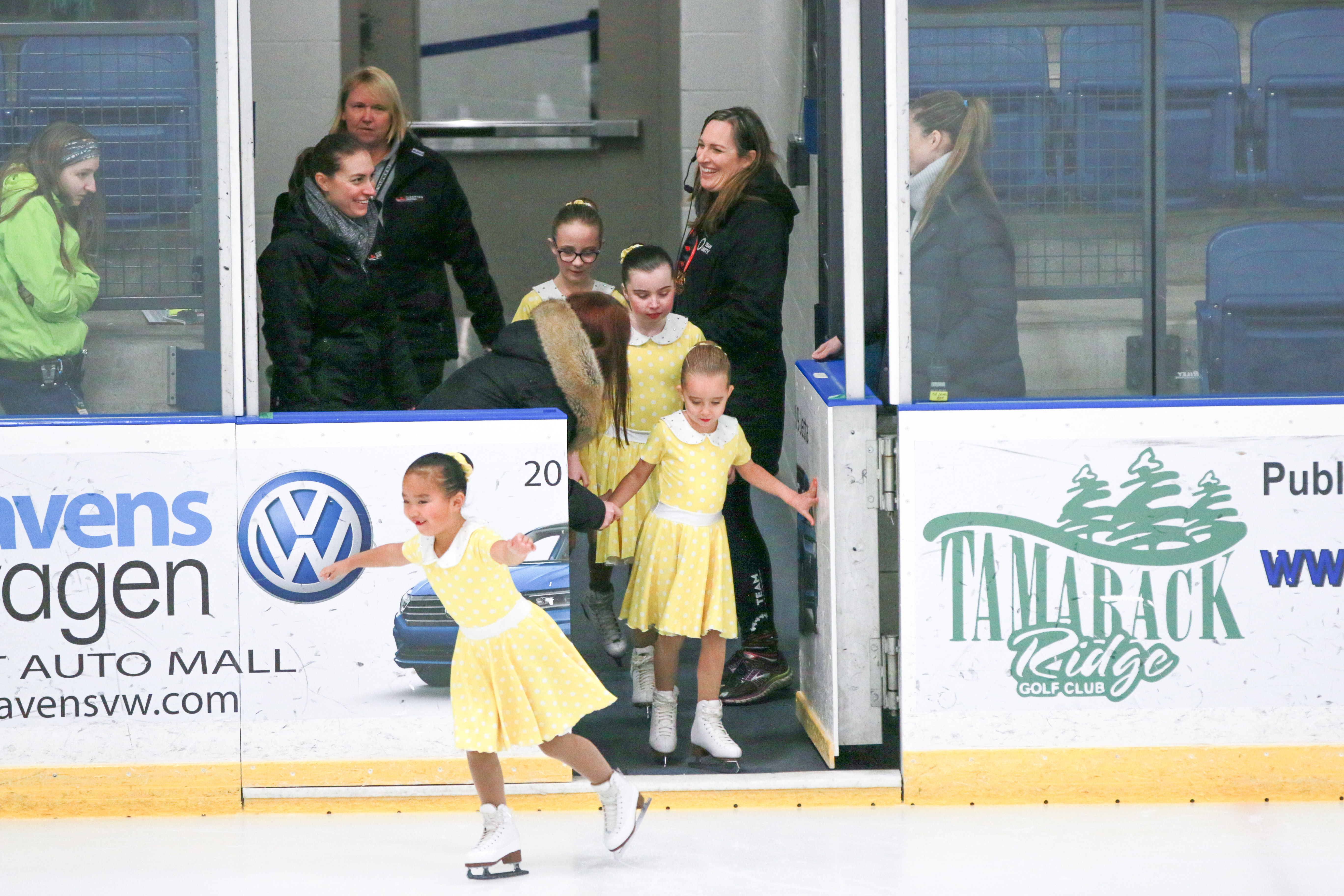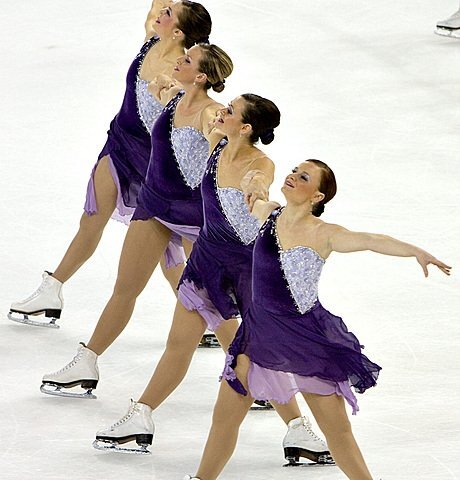 COACHES INDUCTED INTO
SKATE CANADA HALL OF FAME
We are so honoured to have Cara Moir & Sheri Moir Desantis coaching our High performance teams as well as some of our Development teams! They started skating synchro here with Ilderton skating club and then were members of Team Canada 1 that captured the World title in 2009 in Zagreb, Croatia. This team was the first ever Canadian team to win GOLD at the World Synchronized Skating championships.
They were inducted into the Skate Canada Hall of Fame in 2015 in the athlete category. The Hall of Fame was developed to pay tribute to athletes, builders and professionals who have made a significant impact on Canadian figure skating.
Cara & Sheri continue to bring their level of competitiveness, skating skills and enthusiasm to our skaters every day!!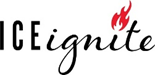 JUNIOR 2023 Cash Calendar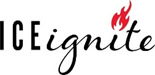 Congratulations to the following winners from our Cash Calendar. Thank you to everyone for your continued support!
ICE IGNITE JUNIOR TEAM

CASH CALENDAR - 2022/2023 Winners

Week #1

Ticket #
Name
Week #2
Ticket #
Name
Week #3
Ticket #
Name
Week #4
Ticket #
Name

Jan 1st

106

Tom Edwards

Jan 8th
815
Tanner Ward
Jan 15th
305
Brennan Szever
Jan 22nd
030
Shannon Stewart
Jan 2nd
310
Kim Fried
Jan 9th
777
Paul Moir
Jan 16th
817
Bradley Ward
Jan 23rd
289
Leeann Fenn
Jan 3rd
041
Karen Anderson
Jan 10th
627
Carol Ann Woodland
Jan 17th
239
Billy Gaul
Jan 24th
339
Marg Smith
Jan 4th
311
Heather Sigl
Jan 11th
324
Bonnie McKellar
Jan 18th
040
Elizabeth Lamers
Jan 25th
394
Marian Redford
Jan 5th
307
Maren Leonard
Jan 12th
304
Paige Szever
Jan 19th
231
Callum Knox
Jan 26th
320
Pat House
Jan 6th
318
Brandon Wilson
Jan 13th
393
Shari Drummelsmith
Jan 20th
039
Robert Lamers
Jan 27th
188
Jacoba Dodge

Jan 7th

268

Jessica Bycraft

Jan 14th

756

Chris & Janet Annis

Jan 21st

028

Robert Lamers

Jan 28th

214

Bonnie Cooper

Week #5
Ticket #
Name
Week #6
Ticket #
Name
Week #7
Tickets #
Name
Week #8
Ticket #
Name
Jan 29th
206
Hayley Waters
Feb 5th
003
Yue Peng
Feb 12th
035
Francis Topin
Feb 19th
278
Coco Lu
Jan 30th
226
Victoria Bernardo
Feb 6th
146
Melissa VanGorp
Feb 13th
190
Wendy Loosley
Feb 20th
144
Lisa Veeke
Jan 31st
358
Lisa Veillon
Feb 7th
601
Adrian Diaz
Feb14th
801
Margie Fulton
Feb 21st
300
Kathy Bleak

Feb 1st

002

Marcia Havaris

Feb 8th
282
Cara Moir
Feb 15th
281
Sheri Moir
Feb22nd
409
Mike Emery
Feb.2nd
294
Brayden Micallef
Feb 9th
406
Doug Emery
Feb 16th
154
Renee Brideau
Feb 23rd
267
Tammy Bycraft
Feb 3rd
104
Donna Dauber
Feb 10th
389
Laurie Davis
Feb 17th
412
Carrey Emery
Feb 24th
383
Kim Jewell

Feb 4th

214

Bonnie Cooper

Feb 11th

224

Karen DiVito

Feb 18th

183

Jen Redick

Feb 25th
628
Estella Harrison
Week #9
Ticket #
Name

Ticket

#

Name

Ticket

#

Name
Feb 26th
265
Anne Moffatt

Feb

27th

641
Jennifer White
Feb 28th
182
Kathy Stevens