Ice show 2024
Tentative Date
April 6-7, 2024
ILDERTON ARENA
50th ANNIVERSARY ICE SHOW! 2023 What a show!!
Thank you to all our volunteers for helping out wherever we needed you. We have the best community ever!
Also a special thanks to our skaters!! We could not do it without your passion & dedication to our club.
Here's the link to the amazing pictures from Danielle Earle for the Sunday only show.
Enjoy!
https://www.danielleearlphotography.com/f860417947
*************************************************************
GENERAL INFORMATION about our ANNUAL ICE SHOW:
Important Notes for CanSkate, Intro, and Junior parents
CanSkaters and Intro and Junior STARSkaters need to be signed in by a parent upon arrival and when leaving.
Parents are not allowed into the dressing area with their child so please make sure your child is aware of this.
We have house parents responsible for all of our skaters.
Bring your child's skates, helmet (if required), and guards in a gym bag. If you have more than one child,
please make sure each child has their own bag with their own belongings as they may be in different dressing areas.
NO ZUCA BAGS please as there is not enough space in the dressing rooms. Skate guards (hard guards) are a must for all skaters!
Please ensure your child has eaten well before arrival for rehearsal and shows.
Meals and snacks are not provided for skaters and should not be sent with your skater.
There is NO food allowed in the dressing rooms however water bottles are permissible.
Please help us to maintain clean costumes!
Flowers for your skater and programs will be available for purchase prior to each show in the lobby.
Pictures will be taken during the Dress Rehearsal. Please make sure to check the proofs of photos in the lobby.
If you require assistance during the Ice Show, please seek out anyone wearing a volunteer badge.

Dress Rehersal
Important Notes for CanSkate, Intro, and Junior parents
Arena
Dress Rehersal
Arrival Time for dress rehersal


Medway – Saturday
Komoka – Saturday
Ilderton/Starskate –
Saturday
First half
8:30 AM
10:15 AM
11:45 AM
Second half
9:00 AM
10:45 AM
12:15 PM

Please pick up your child where you dropped them off approximately 20 minutes after they leave the ice.
Dress rehearsals will not be open to the public. Ticket holders may be admitted by showing their ticket.
Show Schedule
Saturday 5:30pm
Sunday 1:00pm

Sunday 5:30pm
Arrival time
5:00pm

12:30pm

5:00pm
pick up time
Intermission

Intermission

Intermission
Arrival Time
Intermission

Intermission

Intermission
Pick up time
End of Show

End of Show

End of Show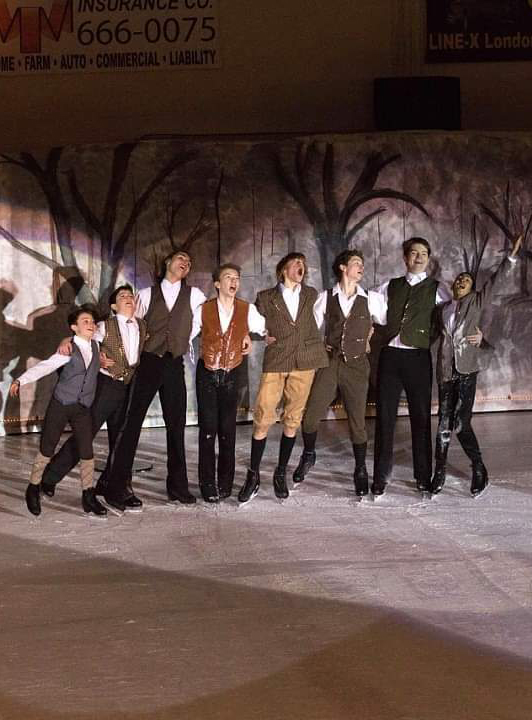 During the show, your child will stay in the change room during the whole half of the performance in which they skate and they are to be picked up as indicated above.
This is to alleviate traffic congestion in and out of the arena seating area and lobby during the performance. Skaters will be well supervised.
Please respect the need for adherence to designated arrival times, due to the large number of children with whom our volunteers are working hard to manage and support.
Thank you for your support and if you have any questions, please contact me.
Some comments from our families!
"Congratulations on another successful and entertaining show! It truly was a great event! Holden had a lot of fun and all of our family members really enjoyed the whole performance. Clearly a lot of thought, time and effort went into it." – Peri and Mike (parents of CanSkater)
"Just wanted to let you know how impressed I was with the skating show this weekend! My daughter has had such a great season of skating and has come so far – it was a great way to finish off the season. Hats off to you and your team for organizing and running such a great event. It is a huge production and it was all incredibly well done." – Heather (parent of CanSkater)
"Our first year at the Ilderton Skating Club totally surpassed my expectations. From the quality of teaching week after week to the end of the year show, everything was great. We will definitely be back next year." – Alex (parent of CanSkaters)